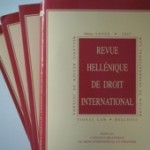 In furthering knowledge on international law and foreign laws, the Institute publishes the Revue hellénique de droit international (RHDI – Hellenic Review of International Law) which has been contributing knowledge to the international legal community for more than 60 years.
The Revue hellénique was first published in 1948 with the initial aim of informing the Greek legal community on international law developments, while at the same time providing the means of communication between Greek legal professionals and their counterparts abroad.
Over a short period of time, the Revue hellénique was recognised as the main Greek platform for the exchange of academic opinion and the analysis of topics on public and private international law, uniform law and comparative law.